CCleaner software is basically designed for Windows users. this is the best computer optimization software, Below features are
Protect yourself from online identity theft
Stabilize Windows, boost your system startup, and uninstall apps
Save hard drive space by cleaning digital 'junk'
Reduce errors, crashes, and tame unruly hardware
Keep your software up to date and secure (CCleaner Professional)
Feature CCleaner software
The most important feature CCleaner described below.
Junk File Cleaner Tool
Uninstall Unwanted software  using cc cleaner
Software Updater
optimize windows Startup application
Manage Browser Plugin From CCleaner
Disk Analyzer
Duplicate Finder
System Restore
Drive Wiper.
System Requirements of CCleaner
Operating System: Windows 7 and later/ Android Lollipop and later OS X Mountain Lion and later/
Platform: IA-32-bit and x64-bit versions
Software License: Free, Professional & Professional Plus (14-day trial)
Available in: 60 menu languages
Important feature CCleaner software(how to use CCleaner)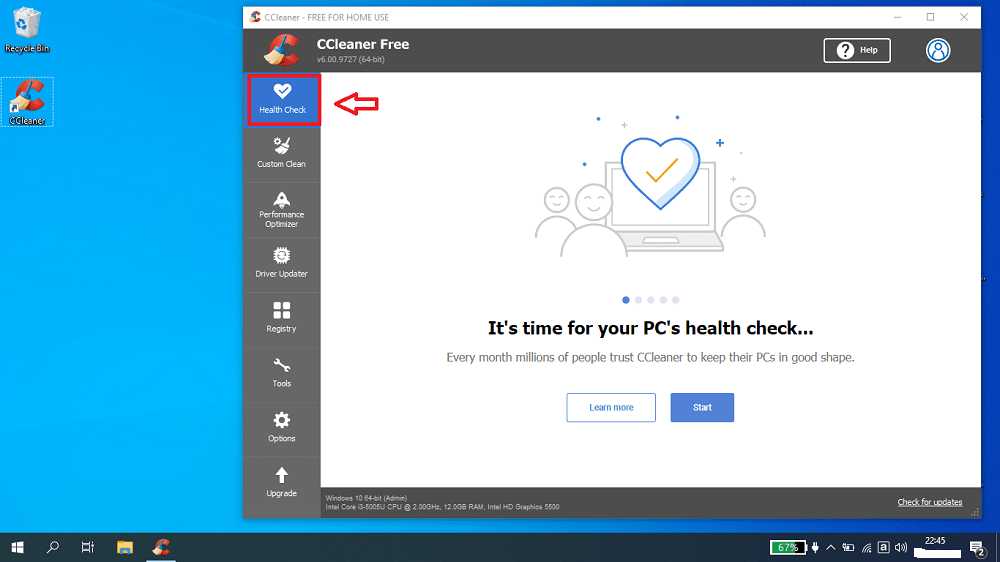 HealthCheck analyzes and optimizes your PC in just a few clicks. In addition to providing CCleaner's standard clean to help make up space and protect your privacy,
 it also updates your software to close any security holes and automatically starts software unnecessarily.
 Enables your PC to boot faster. And the best part about it is that it does it all for you. It is designed so that everyone, of every technical ability, can confidently maintain their PC.
To make things really easy, during the health check, CCleaner uses secure, default settings to decide what needs to be cleaned, disabled, and updated. 
There's no need to stick to the suggested settings though, if you're a bit tech-savvy, you can customize your PC's health check as needed. 
To do so, let Health Check analyze your PC and once it is finished, simply click on the 'Privacy', 'Space', 'Speed' and 'Security' buttons before continuing. Inside each screen, you can tick or uncheck the items you want to clean, disable or update.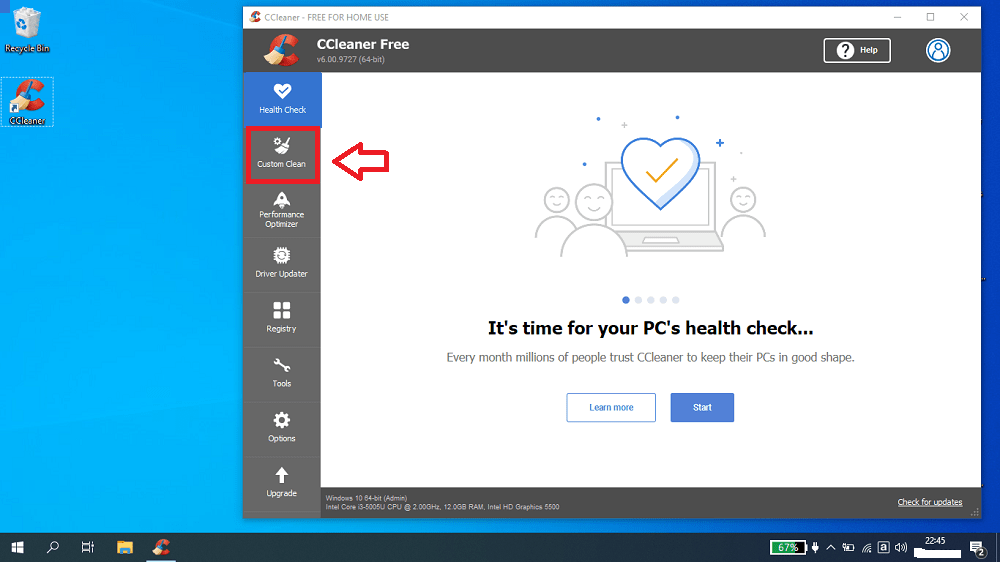 This module is designed to clear temporary files, cache, cookies, etc. from your system, web browser, and other applications installed on your computer.
 In this module, you are allowed to choose what type of files you want to delete.
3. Driver Updater Feature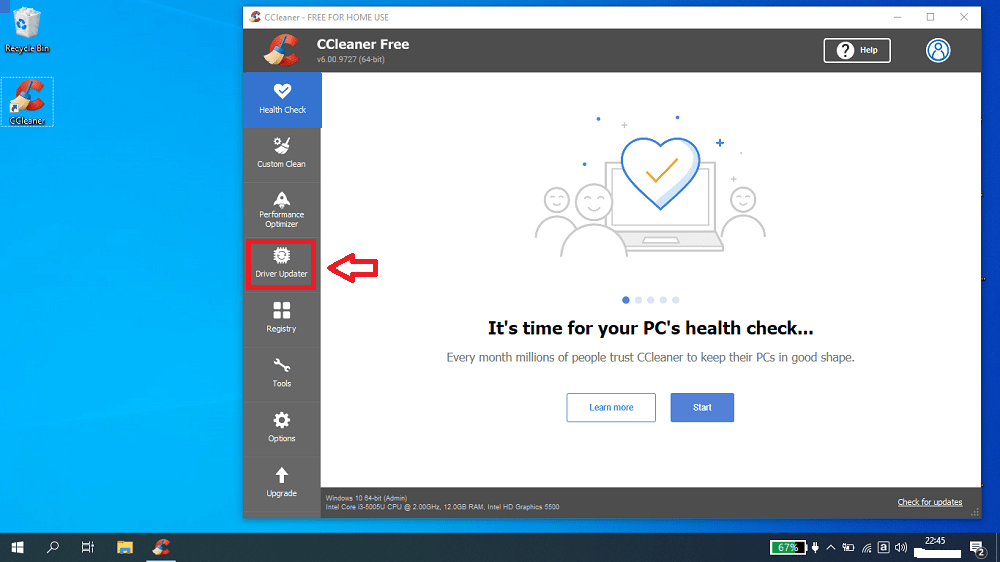 Driver Updater can automatically detect and update more than five million different drivers for approximately 350,000 different hardware devices, preventing problems and errors, and boosting your PC's overall performance.
It quickly scans your computer for outdated drivers and notifies you of the results. Plus, Driver Updater organizes all your drivers into one program, so finding and updating drivers is no longer a burden; 
No one wants to spend time scouring their PC or odd websites to find and update drivers one by one.
It's as easy as launching CCleaner Pro and using the Driver Updater tool to update all your PC's drivers. It takes care of the husky work, so you don't have to. Even better, you can roll back the upgraded driver to an earlier state.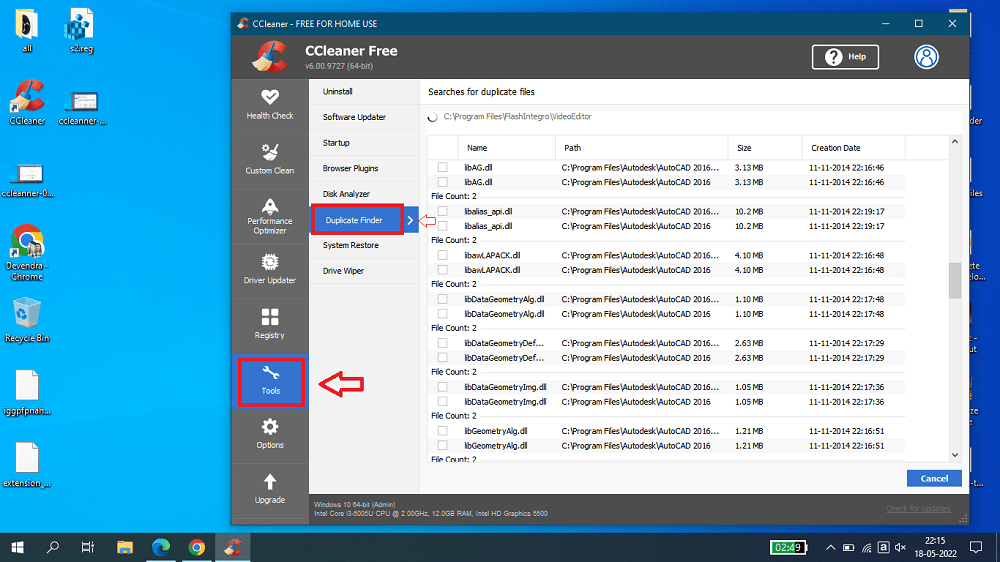 Another useful feature is the duplicate file find function of CCleaner. It can scan your hard disk for duplicate files and directories. 
If your hard disk space is running low, detecting and deleting duplicate files will help you free up some space. Select Tools -> Find Duplicates to use this functionality.
Over time, you may have multiple copies of the same photograph, work document, video, or other files. 
These duplicate files can eat up a lot of storage space on your drive and make your PC sluggish.
5.Startup And Drive Wiper Tools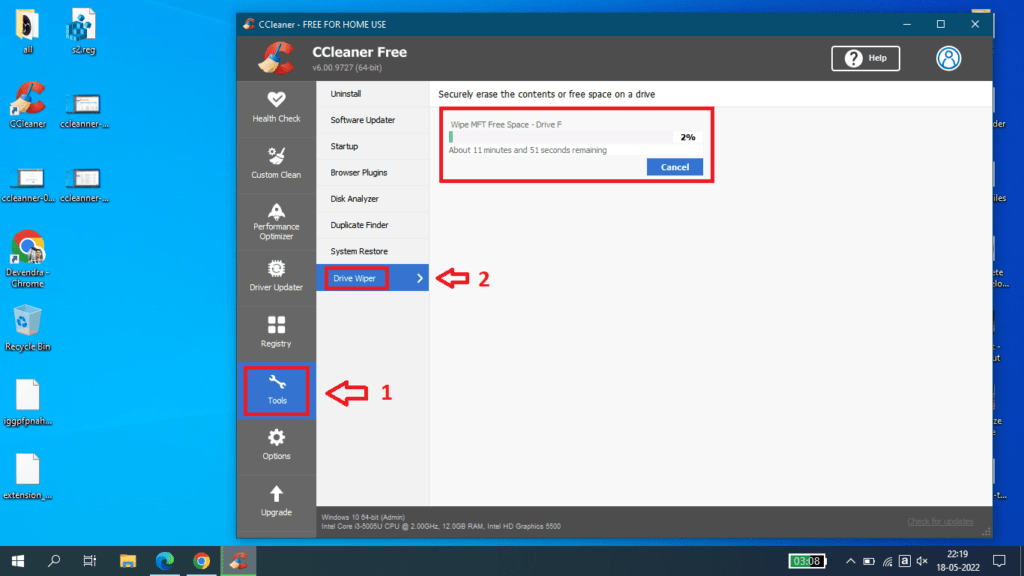 The start-up utility allows you to limit the software that runs when your machine starts up, reducing boot times. 
Driver Wiper securely overwrites deleted files, making them very impossible to recover. This is a function that comes in handy when it's time to delete sensitive information.
This feature is not just for uninstalling programs. 
This uninstaller may also give you the option to repair, remove/rename certain apps
Startup and Browser Plugins Manager
Disk Analyzer
Task Killer
Large File Finder
Priority Support
System Restore Manager
Scheduled Cleaning
Smart Cleaning
Pro Battery Life
Advanced Photo Optimizer
CCleaner Review: Pros & Cons
The installation process is very quick.
It can automatically keep the cookies you probably don't want to delete like the login information.
It keeps a regular update.
The operation panel is user-friendly.
It is an all-in-one powerful PC cleaning program.
It allows you to select the scanning range according to your requirements.
There is software bundled during installation. You have to manually disable its installation or uninstall it after installation if you don't need it.
CCleaner Review:How to use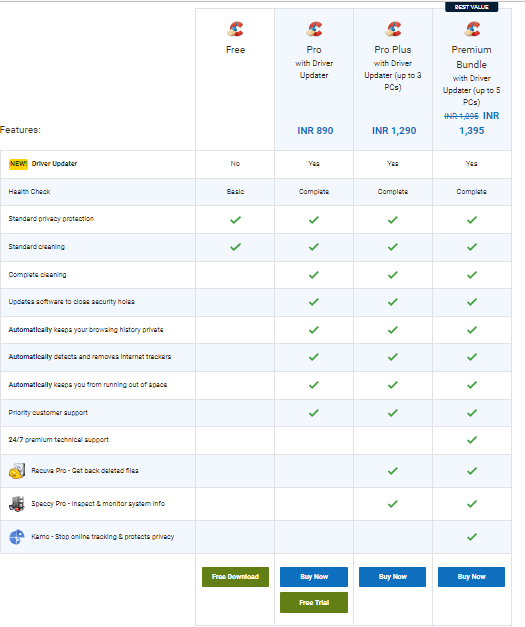 CCleaner is one of the most popular PC optimization tools in the market. However, 
its free version barely offers the most advanced set of features.
It comes with basic privacy protection and PC cleaning capabilities that can free up valuable disk space and also help you delete cookies, and browsing history to make your computer work faster.
Pro Plus with Driver Updater (up to 3 PCs)
If you're looking to protect more devices, Piriform's CCleaner increases its offer for up to 3 PCs to INR 1290 per year, making 
it the most cost-effective product available on the market.
Premium Bundle with Driver Updater (up to 5 PCs)
If you're looking to protect more devices, Piriform's CCleaner increases its offer for up to 5 PCs to INR 1395 per year, making 
it the most cost-effective product available on the market.
Does CCleaner have malware?
CCleaner itself is safe and legitimate. But, some hackers can insert malicious code into this software and then steal your important information. 
Because of that, you are better off getting this software from a reliable source like the CCleaner Official Download Center and the CNET CCleaner download page.
How much data required to install ccleaner?
It takes 38 MB to download a ccleaner
Does CCleaner make your computer faster?
CCleaner can remove temporary files, duplicate files, junk files,  and other unwanted files that are generated by Windows and applications. It can speed up your computer to a great extent.