Comparison and Review  of the best "Folder Locking Software" for Windows 10/8/7 and Mac PC:
How to put a password Protection
This list contains the best free software to password protect folders for Mac and Windows. If you are worried about the privacy of your data, then you can use one of this folder locking software to protect your useful data contained in various folders. also, these are helpful in a multi-user friendly; since there you need good and strong software that can protect your useful and secret files and folders.
Some of these free software let you password protect folders as well as files. Many of them use passwords to protect folders, while some just lock folders with their own methods. There is so much software that even lets you create a virtual drive to save folders in them. These virtual drives are password-protected, and also invisible to others. So, you can choose suitable software for you as per your requirements.
My Favorite Software To Password Protect Folders: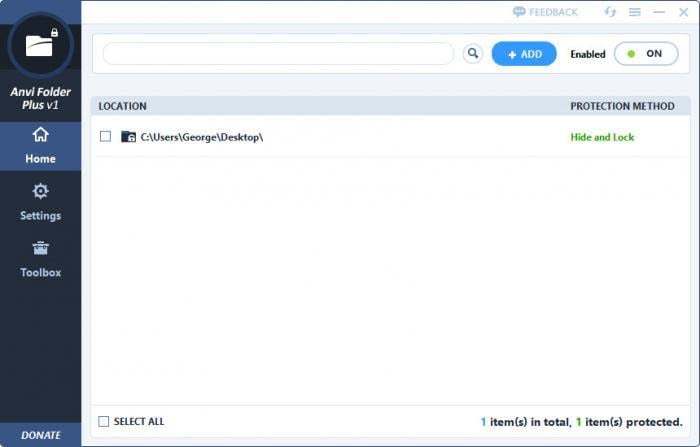 Anvi Folder Locker is one of my favorite Folder locking software to password protect files and folders. In this, you can lock different folders with the different or same password, and also provides a hide feature.
Anvi folder is free password-protected and folder or files hiding software that keeps your data safe.
The user interfaces Anvi folder locking very need and clean.
The best feature of the Anvi locker is  that there is no limit to add files and folders.
The main thing about this software is no advertisement.
You can customize its setting according to your uses. Also, it gives the freedom to set different passwords and permissions for different users.
This not only makes the file password protected but also you can easily hide folders and files.
like read-only mode, hiding files, etc. It works with  Windows operating systems.
Watch this video to leran how to use Anvi Folder Locker
List Of The Top Folder Locking Software
Let us review each software one by on in detail:
| | | | | | |
| --- | --- | --- | --- | --- | --- |
| | | | | | |
| | | Secure files and directories and Making folders invisible | | | |
| | | Secure files and directories | | | |
| | | Military grade encryption | | | |
| | | Lock files and directories with password | | | |
| | | Free and easy Folder Lock for Windows 10 | | | |
| | | | | | |
| | | | | | |
| | | Free and easy Folder Lock | | | |
| | | | | | |
| | | | | | |
| | | | | | |

IObit offers an Increased privacy and protection feature. It encrypts important folders in your Windows and Mac devices and asks for a password to open them, no matter who is using the device.
It can protect your files from – unauthorized access to malicious malware attacks. Apart from its major selling point, IObit can also make your files invisible in one drop
Features
 This tool is good to prevent access to files you like.

 It can keep your files locked even

if your computer is suffering from malicious attacks.

You can download it to hide files from others.

This application supports Windows operating system

Multiple Options to protect files.

Clean and comprehensive user interface.

Block access
Result: IObitis best folder locking software, despite being very much advanced with regards to its features and interface, is a fairly and very simple system to use. You can block access, easily hide, and modify the protection of your folders without any difficulty. Definitely worth checking out.
Price: Free, $19.95
Gilisoft has the ability to protect your hard disks, thumb drive, memory card, flash drive,  and network drives among other devices.
It is a very easy-to-use and clean interface that even hides your file or password to keep it safe, thanks to Gilisoft's powerful features. This best folder locking software as you are free to come with some limitations as compared to the free version software.
You can avail of Gilisoft File Lock Pro's services in multiple languages depending on your wish. You can change custom settings to choose from languages like English, Chinese among many others to assist you in your process.
Feature
You can monitor the Disk or Folder when changes are made by the user.

Offers disk wiper to clean unused disk space.

You can find your lost password in your predefined email

Nobody can uninstall this application without a password.

It can lock folders that are shared in LAN

Clean and Compact Interface

Quick Folder or Device Encryption
Result: Gilisoft File Locker Pro offers a futuristic tool that Consists of a number of great features that easily assist you in protecting your file. Gilisoft should be used for its ease of use and strong features.
Price: Free and paid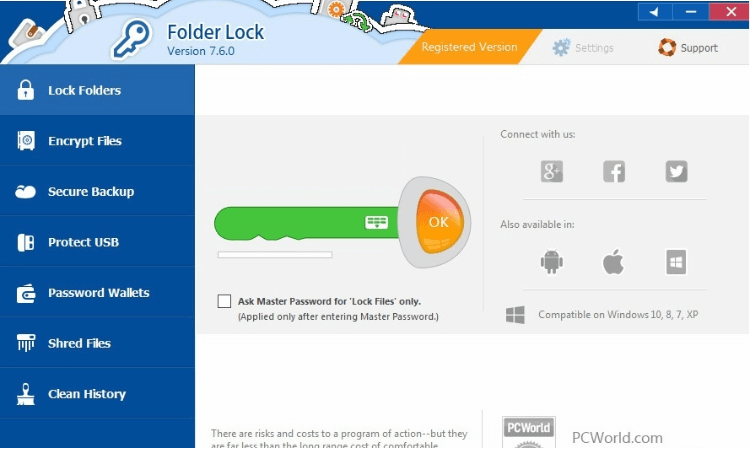 Folder Lock is one of the best folder locking software for Windows, Android, and Mac devices. It offers an intelligent way to digitally protect user data from getting leaked and accessed by an unwanted person. 
With this unbelievable tool, you can secure your sensitive data and also encrypt it whenever required.
It also allows you to create backups and lock files with passwords and it also clears the system history.
From external drives and from email attachments to USB, you can put a password lock within a seconds and ensure complete safety. It comes with a Clean Interface Compact design.
Features
Passwords can be easily set to an external drive or USB.

It can permanently remove files.

You can clean windows history.

It offers a 2-way encryption method for security.

Back up your files in real-time. Password Lock

Encrypt files, CD's and USB devices

Create easy back-up

Shred files
Result: Folder lock provides a slew of familiar features that will help you perform a range of functions to protect your files. 
Price: Free, $39.95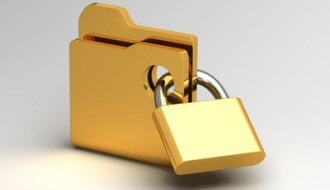 Secret Disk is a free folder lock software for Windows that offers great features and a very easy way to lock your folders on Windows devices. You just need to add the file or folder you want to protect in Secret disk dashboard.
Another very outstanding feature of Secret disk is that you cannot uninstall any particular software without entering the password. This is extra beneficial as hackers will often try to attack important programs on your device.
In this I found a problem – it doesn't lock automatically after closing your folder. You need to open and lock it manually every time.
Features
Password protected lock

The supported operating system is Windows.

You can limit access to files.

It uses industry-leading protocols and standards to process your data.

Protected uninstall

Protect an unlimited number of files and folders.
Result: Secret disk is a very simple tool, and this can be had for both its merits and demerits. The tool doesn't offer many features other than password-protected folder locking. However, as a stand-alone folder locker, it is a great tool
Price: Free
HiddenDir is a basic free folder lock for Windows that enables users to make their important files invisible on Windows. All you have to do is click to open the tool, select the Hide button, and checkmark the folder you want to hide. Just like that, your folder is hidden from everywhere on the device.
To unhide a file, follow the repeat step
Features
This application is portable.

Free and easy to use

Automatically hide full directories.

Password protect your files

You can set a password that is asked when someone opens the program.
This folder lock app for Windows offers easy to use interface.
Result: Hidden DIR performs its dual function of hiding and password-protecting files. It is very easy to use and will joy users who want nothing more than a simple tool to protect their files without unnecessary complications.
Price: Free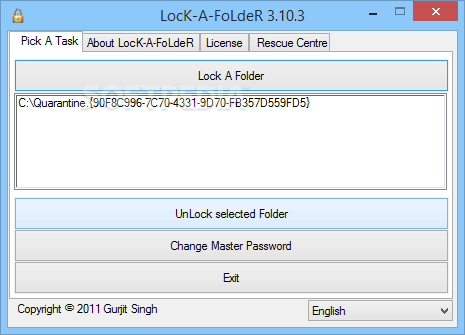 Lock-a-Folder is a very simple and easy-to-use folder locker for your device. You just need to enter the path of the folder which you want to lock or protect with a password,
You can easily set or modify your password with the 'Change Master Password' option and the security you get is unmatchable.
The tool does not offer to encrypt your files. Nonetheless, its password protection feature provides good security.
Features
Free and easy to use

It is very friendly with hardware resources and does not hinder the performance of the system.

Password protect your files

Hide Folder
Result: We can only recommend Lock-A-Folder for users who are still using Windows operating systems like the Windows XP system and the lower version of Windows 7. It is very easy to use.
Price: Free
This lightweight tool comes with a highly strong protection functionality. Once the files are locked, no other person will be able to access, delete, read, modify, or copy files. 
It uses a password method and once you set a password, no one can access the application without entering the master password. 
It is very easy and simple to use  Easy File Locker.
Features
The supported Windows operating system 

Free and easy to use
Result: We can only recommend easy file loke for users who are still using lower operating systems.Price: Free
WinRAR is a great file compression tool whose basic feature is to unzip and zip files. This is what is known and widely used. However, like WinZip, this tool also has a very powerful encryption system that people are unaware of.
WinRAR allows you to encrypt your files very effectively to make them secure. It provides banking-level encryption and also enables secure file transmission, as it ensures that your files are safe and secure with a high level of encryption before you transfer them.
Features
File compressor

Certified Signature Technology

256-bit password protection

Divide the archives into separate sections.
Result: WinRAR's security system is perfect for users who want to transfer their sensitive files securely. Its certified signing technology and 256-bit password encryption feature allow for that luxury.
Price: $33.35 for one license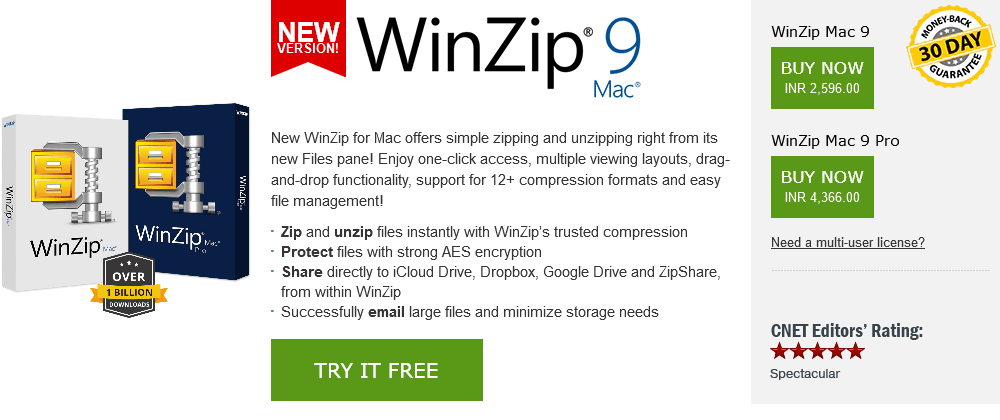 WinZip is quite an amazing tool for zipping and unzipping files. However, many people are not aware that it can also have file protection features, which in itself are worthy of praise. WinZip allows you to encrypt your zip files.
WinZip offers several options when it comes to choosing the level of encryption with which you want to protect your important files. It offers banking-level encryption which is said to be the toughest. Encryption is also very easy to use.
Features
Zip and unzip file

Backup files to the cloud.

Password protect and encrypt files.

file manager
Result: Unfortunately, if you are using WinZip and neglect its strong file protection features. You can encrypt your files with bank-level security, set a password, and back up your files to get a full-service security experience.
Price: Free only trial with limited features and limited period, Premium version – $29.95.
Folder Guard most of the features are similar to the 'Folder Lock' tool we initially covered on this list, it is completely new and different and one of the best altogether. It can encrypt, password-protect, and also hide your files from your computer screen, but can also, in addition, protect your files from malware and virus attacks as well.
Thereby ensure that your files remain shielded from unauthorized access, virtual theft, and hacking. Another great feature is its ability to back up files in a securely protected database.
You can save all of your important information such as financial documents, bank information, etc. here quite safely. Folder Guard also provides users with other features such as the ability to protect external hard drives and encrypt and password- and disabling control panels.
Features
It adds a restriction level to your files and folders by setting a password. 

Encrypt External Hard Drives.

Encrypt and Password Protect Files.

Create Storage lockers with military-grade encryption.

Disable Control Panels
Result: Folder Guard is the best folder locking software tool that takes file security to the next level. Its military-grade encryption system is an act of genius. Download Folder Guardto keep your personal data safe from leakage 
and theft. 
Price: Free with limited features, Professional Version – $79.95, Office – $199.95 Home version – $39.95, 
With online attacks becoming ruder and ruder, we need considerably more strong and natural tools to protect our sensitive files. All of the above-mentioned tools fulfill this goal by providing a tool that encrypts or password protects your data from prying eyes.
Folder Lock offers a number of familiar features that will help you perform a variety of tasks to protect your files, and you can do other things like using WinZip to lock files as well as unzip files.
for more useful software visit to-https://softwarehope.com/best_software_in_2021/
Frequently Asked Questions:
1. What is Folder Locker❓
Folder Lock Software is a tool that enables you to prevent other people from editing, and deleting files, viewing, and directories.
2.Can I Lock a Folder in My Windows 10 PC Without Using a Software❓
Yes, you can but the process is very long so I may recommend you to use the software
3.What Does Encrypting A Folder Do❓
Encryption is the process to make secure data using different guards. You can also use different software locking to protect your data from unwanted access.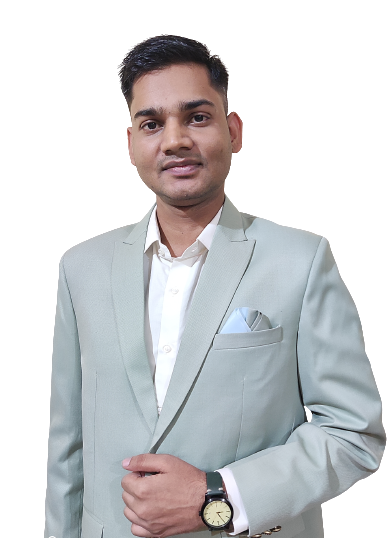 🌟 Unleash the Digital Power with Devendra Gupta 🌟
🖥️ Tech Enthusiast |Software Reviewer| Blogging Expert | SEO Guru |
Web developer 📊
🔍I tested hundreds of Software and reviewed