Sooner or later, many security-savvy users decide that antivirus protection alone is not enough, so they go in search of security Software.
Bitdefender is one of the biggest names in the antivirus software industry.
The company offers everything from free antivirus for personal use to enterprise security packages for hundreds of users.
Although Bitdefender ranks as one of the best antivirus services on the market, it is not without some minor issues regarding its obscure pricing and its performance on user machines.
Bitdefender Total Security is the top-level suite of Bitdefender. It both enhances the protection offered by Bitdefender Internet Security and extends its security to all popular platforms.
It has all the cybersecurity protections most users need to stay 100% secure, it's super easy to use on all devices and operating systems, and it's cheaper than most competing brands.
Bitdefender

Pros and Cons
Watch video know how Bitdefender works.
Bitdefender Important Feature:
In addition to high-end web protection and malware , Bitdefender Software has more security features than almost all other brands, and all its extras work as promised and are very simple to find and use. Bitdefender has:
Advanced ransomware protection.
Webcam and microphone protection.
System optimization.
Secure web browser for safe online payments.
Password manager.
VPN (virtual private network).
Parental controls.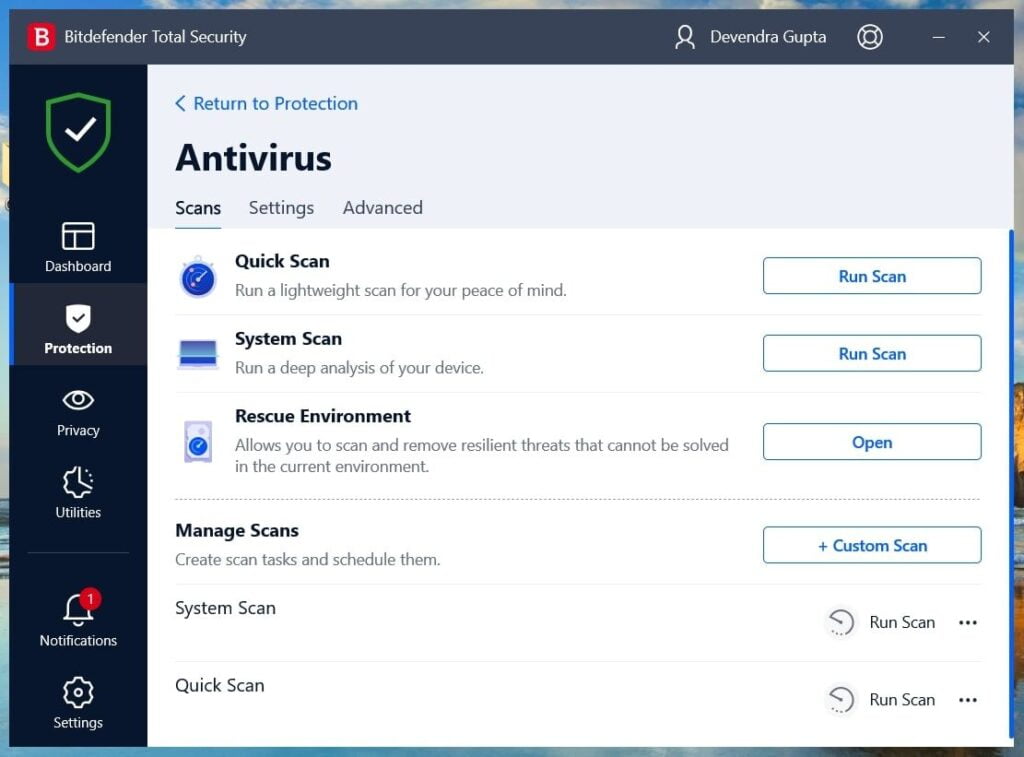 Bitdefender's antivirus software scanner is both thorough and lightweight. It uses a vast malware directory and machine learning to detect both known and emerging malware. Bitdefender's antivirus engine takes up a fraction of the CPU and disk space during the scan.
Bitdefender offers four types of scans:
Quick Scan: A light scan of core system files and temporary files where viruses are often stored.
Vulnerability Scan: Scanning for privacy risks in application and wifi settings as well as critical software updates.
Custom Scan: Scanning into any system location where there may be potential threats.
System Scan: In-depth analysis and scan of the entire system for malware and vulnerabilities.
I tested Bitdefender's virus scanner by hiding about 1,00 malware samples, including viruses, Trojans, worms, rootkits, ransomware, adware, spyware, cryptojackers and keyloggers, in my virtual Windows computer – once my system was completely free of malware. got infected, so I performed a full system scan.
Bitdefender's real-time protection (Bitdefender Shield) proactively scans every file and email attachment the moment you access them. The default settings of Bitdefender Shield include the following scans:
Software that is hidden inside other applications.
Potentially unwanted applications.
Problems with the remote network on your device.
boot sector. Problems that can change the boot sequence.
New and modified files only. Threats that can lurk in new and changed files.
While Bitdefender Shield's default protection is sufficient for most users, advanced users can customize the real-time settings to include applications, scripts, and archives.
Bitdefender's real-time protection blocked every malware file before we could download it. But Bitdefender Shield didn't just interrupt my downloads—it wouldn't even allow me to start them by weakening out the "Save File" button.
Bitdefender SafePay(Secure Web Browser)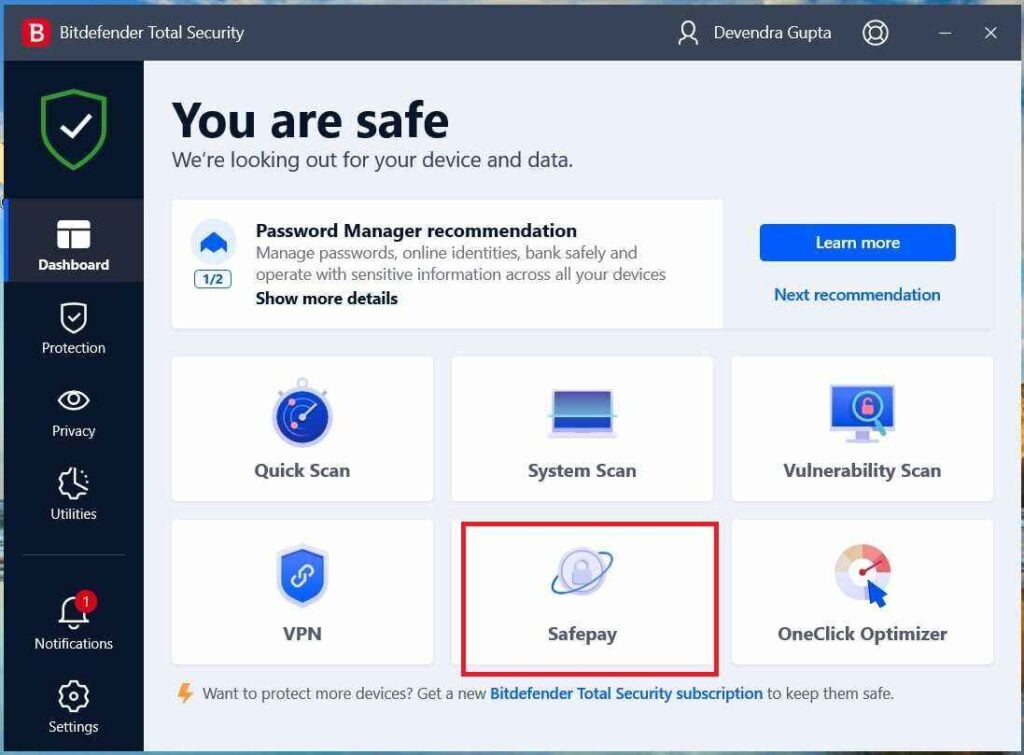 Bitdefender SafePay (Secure Web Browser) is a protected browser, a sealed environment designed to keep your purchases and online banking and any other types of online transactions private and secure. Hackers are relentless in their attempts to steal personal details, so you can never be too careful about securing online transactions.
Safepay protects your banking data from all e-threat attacks and your banking like hacking, phishing, packet analysis, "man-in-the-browser" and "man-in-the-middle" attacks, system changes, Trojans target data. , e.t.c.
When browsing in Safepay (Secure Web Browser), you are not at risk of being spied upon if your passwords are stolen. Malicious keyloggers cannot record what you type on your keyboard and cannot send reports over the Internet to hackers. 
Safepay (Secure Web Browser) also prevents malware from taking screenshots and detects fraudulent websites. Web-filtering technology make sure that you never land on a harmful website.
Bitdefender SafePay (Secure Web Browser) also comes with a built-in VPN that protects your confidential data even on public Wi-Fi networks.
Web Protection(online threat prevention)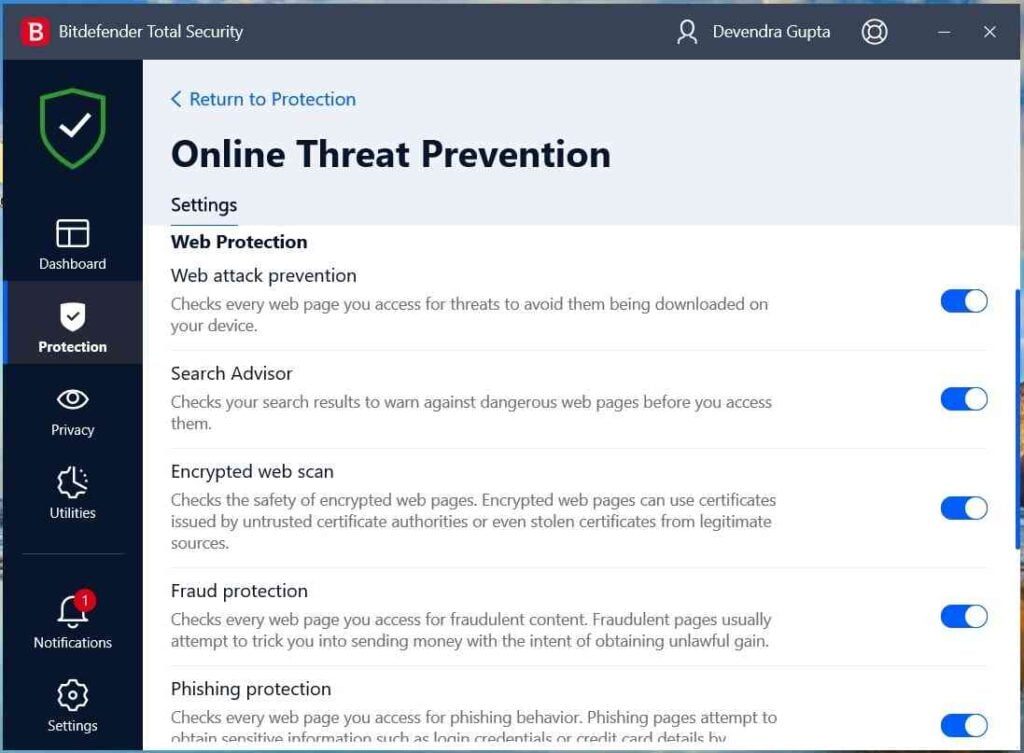 Every time I visit a website, Bitdefender's anti-phishing protection compares it to a constantly updated database of millions of dangerous, blacklisted sites. If a match drops, Bitdefender blocks access to the site.
I try Bitdefender's anti-phishing protection with a huge directory of phishing sites – Bitdefender blocked all the fake websites I tried to access. Firefox, Chrome, and even third-party anti-phishing tools from competitors like Panda and McAfee failed to detect as many suspicious sites as Bitdefender.
What's more, Bitdefender has a timely information screen, so you can see which websites it has blocked and why. This makes it easy to permanently add false positives to Bitdefender's exception list.
Whitelisting sites can be done in one click, while other antivirus like
Bitdefender's Web Protection also prevents you from accessing webpages that contain downloadable malware – it also checks search results for dangerous sites, scans encrypted websites, and checks sites for spammer's content does.
In general, Bitdefender offers exceptional anti-phishing protection as well as protection against a wide range of other web-based threats. In addition to blocking more phishing sites than most challengers/competitors, Bitdefender makes it easy to whitelist websites and adjust web security settings easily.
System Optimization(Oneclick Optimization)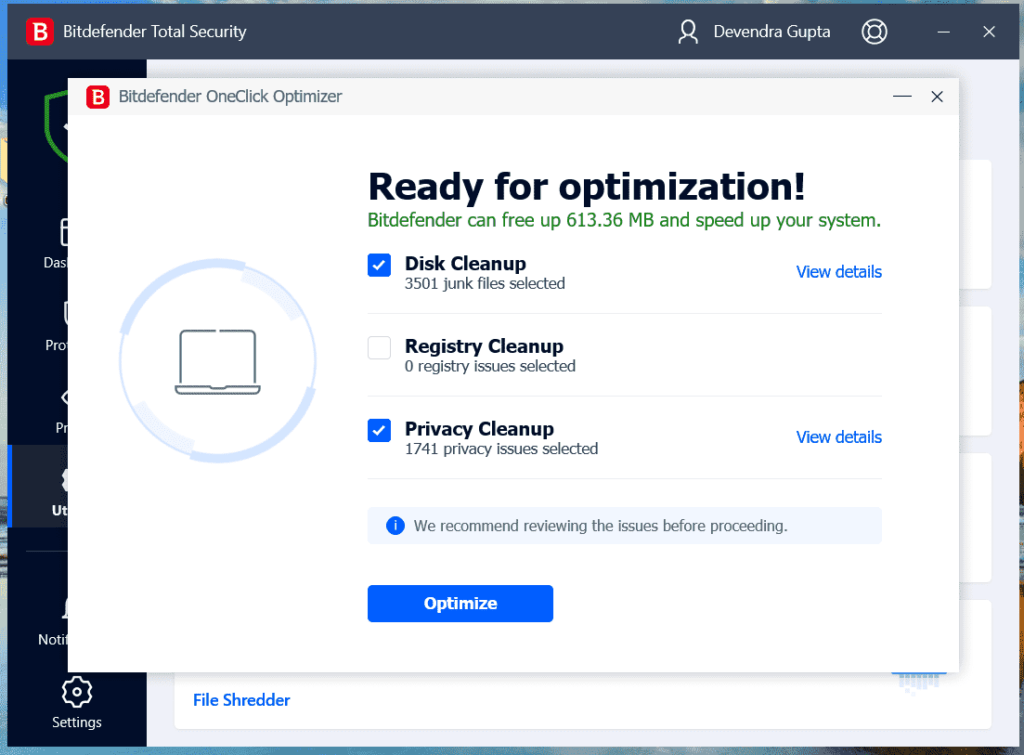 Bitdefender's OneClick Optimizer is a basic but helpful tool to free up disk space on your computer/laptop. It scans your system and removes unnecessary files from your computer.
Bitdefender basically removes various junk files, including:
Temporary system files.
Broken registry item.
windows junk files.
Recycle Bin Files.
browser history.
I run a scan with another application running in the background, and it only takes 1~2 minutes to complete.
Bitdefender managed to free a total of 613MB from my PC, which is really awesome.
I'd like to see more features included in Bitdefender's system tuneup tool. For example, TotalAV's built-in optimizations include a startup manager, an application uninstaller, and a duplicate file finder.
That said, after running Bitdefender's one-click optimization, I noticed an increase in speed on my PC. This simple one-click method of freeing up space has some restrictions, and it lacks some of the features that competitors offer. But overall, it is very convenient and functions well.
Bitdefender's password manager is easy-to-use and secure – but it's not as good as a dedicated password manager like Kaspersky or 1Password. Bitdefender does not offer features such as two-factor authentication (2FA) or password sharing. However, it does provide essential functions of a password manager, such as:
 High level encryption.
password generator.
Auto-save and auto-fill.
Password Vault Auditing.
Multi-device sync.
Payment information storage.
Unlimited password storage
Bitdefender's password manager comes free with Bitdefender Premium Security, but lower-tier Bitdefender plans come with a 90-day free trial of the password manager, after which you'll need to pay an additional annual fee.
To access the password manager, you'll need to install additional extensions to Bitdefender's password manager (available for Firefox, Chrome, Microsoft Edge, Opera, Safari, and Brave). There's also an Android and iOS app, but no desktop version.
Bitdefender still offers My Wallet features for Windows desktop users, which is a basic password vault with auto-fill capabilities and a password generator. But the My Wallet feature doesn't offer the range of features or cross-platform compatibility included with Bitdefender's password manager.
Kaspersky or Bitdefender which is light for PC
Kaspersky was heavy and took more space as. compared to Bitdefender
What is disadvantages of Bitdefender Total Multi device?
The main disadvantage of Bitdefender you have to buy a separate password manager. same you look to Kaspersky the provides a free password manager.
For  $89.99 per year, you can install Bitdefender on five devices
Can I install antivirus(Bitdefender without activating Windows 8.1?
Why buy Bitdefender When you get 30 day subscription for free for every account you switch?
Yes you are right.but you… 
Bitdefender will detect your IP Adress  and block your subscription.
Bitdefender is one of the best and most feature-rich antiviruses in the market. Its malware scanner has a 100% perfect recognition rate, its web security is better than most competitors, and all of its extra features (system tuneup, parental controls, anti-theft, VPN, etc.) work exactly as guaranteed. does. The only major downside is that Bitdefender's password manager not free and a VPN with unlimited browsing data is only available as a separate purchase. However, all of Bitdefender's plans are really affordable—they're cheaper than most competing brands (even with a premium VPN subscription), and they're all backed by a risk-free deal , money-back guarantee for 60 days. You also go for kaspersky.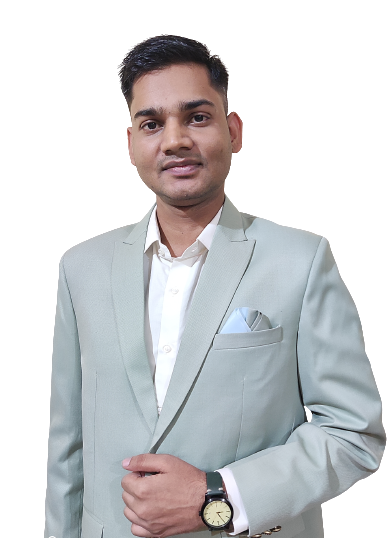 🌟 Unleash the Digital Power with Devendra Gupta 🌟
🖥️ Tech Enthusiast |Software Reviewer| Blogging Expert | SEO Guru |
Web developer 📊
🔍I tested hundreds of Software and reviewed