SwifDoo PDF Developed by an experienced team.SwifDoo PDF is a Windows program that comes with advanced functionality.
I like that it has everything you need for basic to adance PDF work- editing,Annotate,Compress,,Watermark,Sign,splitting and merging,as well as Converting and pasting text, and so on
This software comes free for 15day. this software is very user-friendly interface where most of its main features layout and can be easily rememberable and accessed on the main screen of the software.I must say that SwifDoo PDF has the capability to solve all your PDF-related problems. Beginners will enjoy the simplicity of this software.
Softwarehope always brings such software on its website, you can visit For more software.
What is Pros and Cons of SwifDoo Pdf?
SwifDoo Pdf

Important Feature:
Let us just take a quick look at its important feature.
PDF Edit Tool
Annotate
Compress
Merge&Split
Convert
Watermark
SwifDoo PDF Program comes with pro and free versions. After downloading from the official website and logging into your account, you can try a free trial version for 15 days. You can access the entire feature set will be available here without limitation. However, you will not be able to upload files larger than 20 MB or more than 200 pages.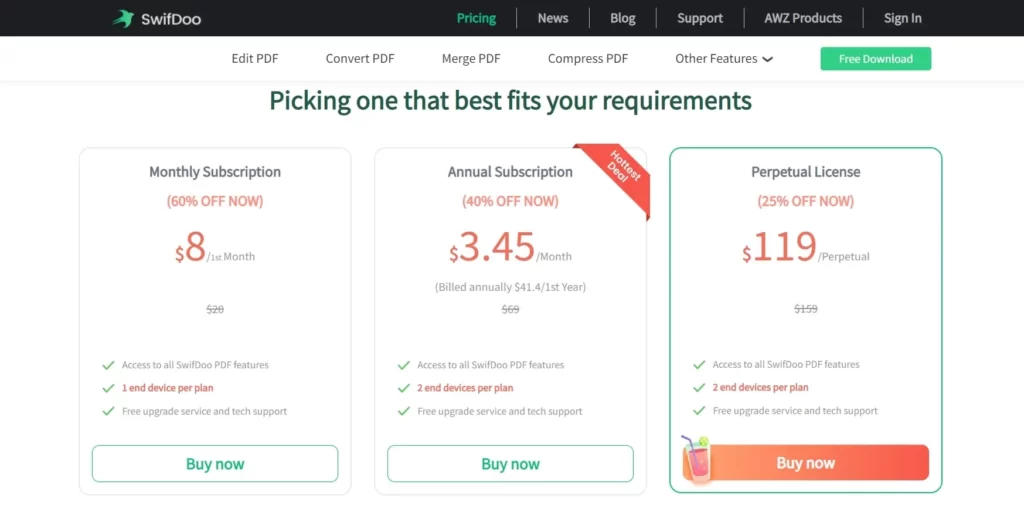 Let us now see how we will use all the features one by one.
Step 1. Download and install SwifDoo PDF on your windows device, then launch it.
Step 2. Open the pdf file which you want to edit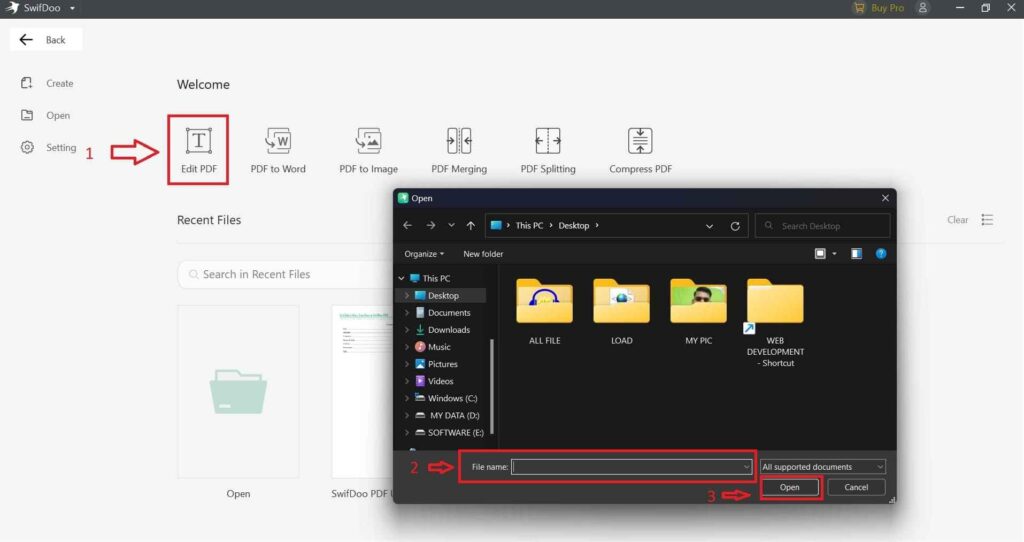 SwifDoo PDF's capable editing feature enables you to modify the PDF document easily as an MS( Microsoft) Word file. Open a PDF with SwifDoo PDF, and then click Edit in the tab Edit to start making changes to the content. We strongly recommend users adopt this method when it comes to editing a part of the PDF.
Mouse-click on the text box to modify the content. In addition, you can insert a text box
to change the font size, style, and color. More than this, SwifDoo PDF enables you to access Bold, Italic, Strikethrough, Underline, Superscript, and Subscript when adding a new text box.


Different Annotation Tools for increase Interactivity
SwifDoo PDF has ten more annotation tools that can help you annotate PDFs
easily. We highlight, area highlight, strikethrough, underline, shape, and stamp too. provideFacilitates communication And markup of any changes by highlighting
While creating PDF, sometimes the size of your PDF becomes too big, so let's see how to compress PDF files now.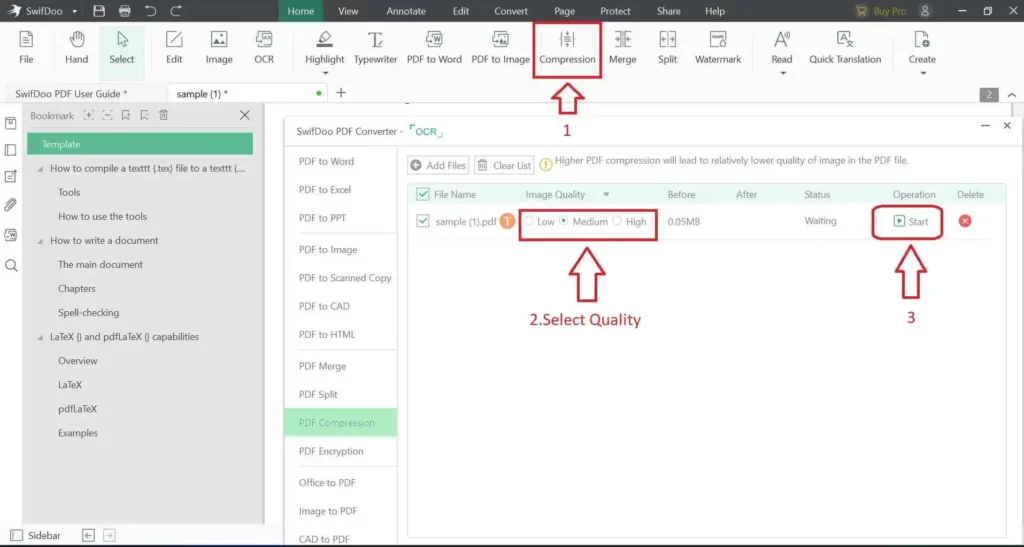 Step-1.In-home tab selects the compression feature .
Step-2.Select pdf quality low,medium,high
Step-3– Click to start 
Sometimes we need to merge many PDF files together then this software will help us to merge many PDF files together.
Step-1. Click on the marge feature which is shown in the image 
Step-2. Click on add button here you can add any pdf 
Step-3. Select the pdf which you want to merge. 
Step-4. Open its by clicking the open button
Final Step-Just start merging
Convert:How To Convert PDF To Other Formats & Vice Versa
SwifDoo PDF Software supports users in converting PDF to Word, Excel, CAD, PPT, Image, TXT, HTML, and vice versa, which covers most needs in people's day-to-day dalily lives work. It's quite easy to use even if you're a new user.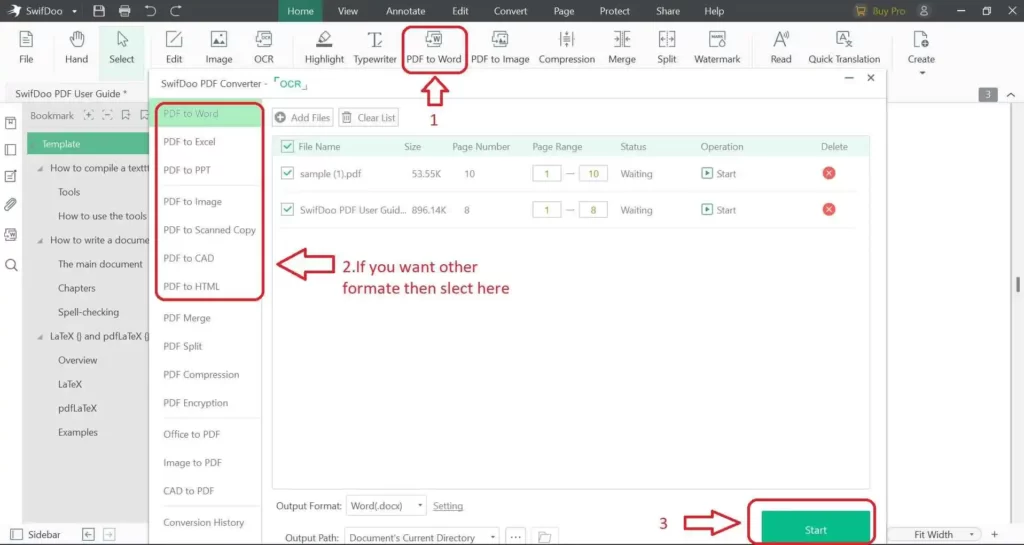 Step 1. Click Open to choose your target file. Press the Convert button on the top bar at the top of the interface.
Step 2. Take PDF to Word as an example. After selecting the Convert button click PDF to Word. Then you can hit the Start button to convert the files directly.
Adding a watermark to PDF is a good way to improve file security. SwifDoo PDF allows.
If you want to create a custom watermark then you can. Apart from that, some commonly-used watermarks are already given by SwifDoo PDF for your reference.
Why Should You Choose SwifDoo PDF?
Millions of people around the world are using this software as it can be used for home and home office purposes, governments, schools, and enterprise users.SwifDoo PDF is always ready to give out to customers. Support is available through email and social media.
However few websites provide the same services that SwifDoo is providing, the reason to choose SwifDoo PDF is Very easy to use. SwifDoo PDF is globally used
Q. How much does SwifDoo PDF cost?
Pricing for SwifDoo PDF starts at $41.40/Yearly/User.
Q.Does SwifDoo PDF offer a free trial?
Yes, of course, SwifDoo PDF offers a free trial.
Q.Does SwifDoo PDF offer a free trial?
Yes, of course, SwifDoo PDF offers a free trial.
Q.What kind of support options does SwifDoo PDF offer?
SwifDoo PDF offers support via business hours, 24/7 live support, and online.
I highly suggested that you use SwifDoo PDF After using this software, I felt that the software is very good, you can go for this software. I highly suggested that you use SwifDoo PDF as your go-to PDF tool.
Error: View fb63b3a4fp may not exist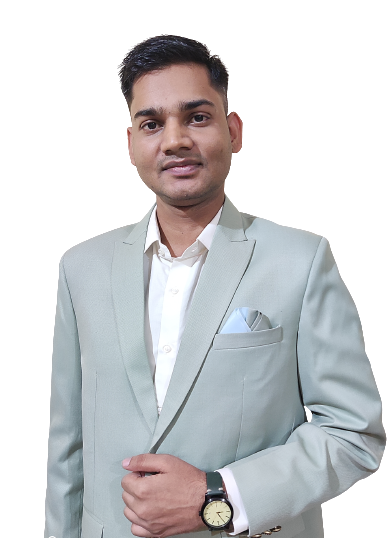 🌟 Unleash the Digital Power with Devendra Gupta 🌟
🖥️ Tech Enthusiast |Software Reviewer| Blogging Expert | SEO Guru |
Web developer 📊
🔍I tested hundreds of Software and reviewed