Malwarebytes is an antimalware software for single users and small businesses(multiuser), which blocks viruses, hackers, malware, and malicious websites.
Malwarebytes is a safe antivirus that provides the best service. It has the ability to prevent viruses in real-time, infecting your system, stop ransomware and protect you from accidentally visiting malicious websites. The service will also remove the existing malware from your windows computer/Laptop or smartphone.
exact to its name, Malwarebytes puts a solid focus on finding and eliminating malicious software
What is Pros and Cons of Malwarebytes?​
Malwarebytes Important Feature:
Let us just take a quick look at Malwarebytes important feature.
Virus Scanner.
Browser Guard
Real-Time Protection
VPN (Virtual Private Network)
Malwarebytes' virus scanner is excellent; It provides real-time malware protection across Windows, Mac OS, and Android devices in addition to on-demand scans. Malware on your system is detected using a malware database, and new malicious files that have not yet been uploaded to the database are flagged using heuristic analysis.
I downloaded about 1,500 dangerous files (viruses, spyware, Trojans, etc.) to my test PC before putting Malwarebytes on it. Malwarebytes discovered about 72% of files after completing a threat scan. But 97% of the virus was found to be complete. disk scan. Although it is a good score, compared to the competitors
Three system scan modes
Quick scan
Custom scan,
Threat scan
Don't be surprised by the Scan Mode modifications if you had Malwarebytes antivirus software on your computer a few years ago and decided to reinstall it. Malwarebytes version 3.5 offered four different scan types: Full, Hyper,Threat, and Path.
Version 4.5 however made some changes. Right now offered three different scan types: Quick Scan, Custom Scan, and Threat Scan are available. It appears that Malwarebytes has just modified some of its scanning titles to the more well-known ones to suit the market.
Remember that Malwarebytes can only perform one type of scan at a time. For example, you can't perform a system scan and look for antivirus software in a specific file. As a result, plan your on-demand scans appropriately.
Malwarebytes Browser Guard
Free browser extension add-ons for Google Chrome, Mozilla Firefox, and Microsoft Edge include Malwarebytes Browser Guard. It protects you from advertisements and third-party trackers, phishing malware, and potentially unwanted programs, e.g., browser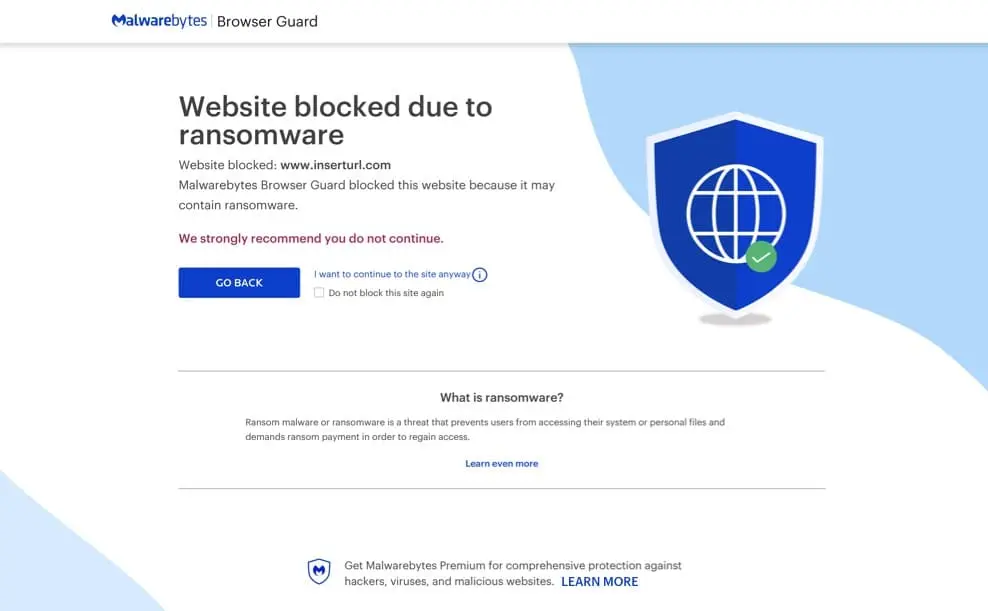 You get it with your Malwarebytes antivirus program. However, you can decide whether to install this extension or not. I like how the user is given a clear choice and that Browser Guard is not compulsorily installed on your PC without your permission.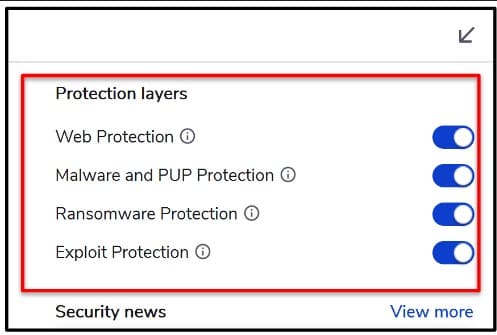 In my experiments, Malwarebytes' real-time malware prevention worked great, stopping 96% of the malware I downloaded to my device. Malwarebytes prevented viruses, Trojans, worms, and even web-based exploit attacks from harming my test PC, a great result that's on pace with other high-end antivirus programs.
The web security and exploit prevention tools provided by Malwarebytes are also fascinating to me; These functionalities work in the background independent of the web browser you are using and can prevent phishing scams as well as harmful web scripts that try to infiltrate your machine through the browser. In my testing, Web Security stopped more phishing and exploit attempts than Chrome or Mozilla's built-in security measures.
But Malwarebytes' ransomware defense isn't as effective as
VPN (Virtual Private Network)
Malwarebytes Premium and Privacy is the last option. This version includes a Virtual Private Network to protect your browsing privacy.
Their VPN is excellent; It provides access to over 32 countries with a variety of servers (450+ in total).
This VPN and antivirus software package cost you $100 annually. It is quite expensive compared to other antivirus programs. I recommend that you buy this package only if you are sure that you are using the software and the VPN.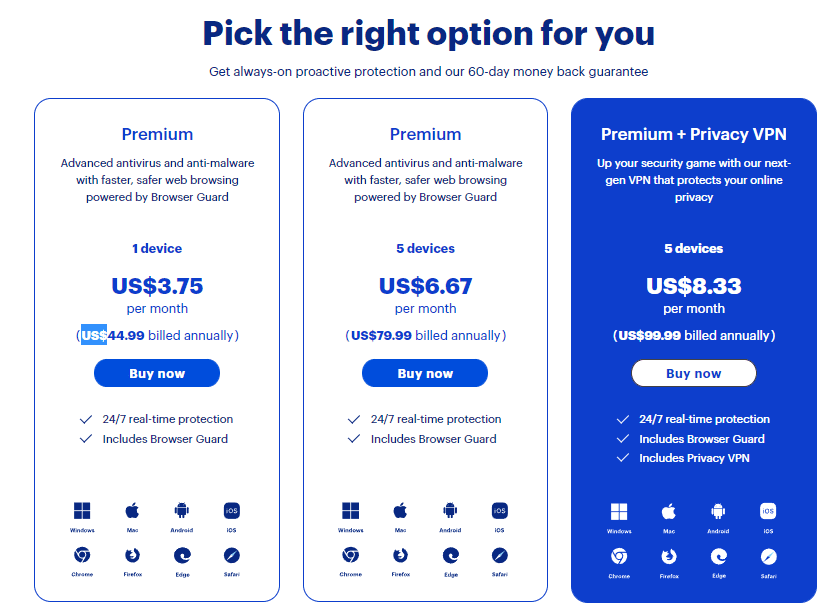 A risk-free 60-day money-back guarantee comes with every paid Malwarebytes package. Compared to most competitors, which often only offer a 30-day money-back guarantee, this is a satisfactorily generous offering.
Yes, but after installing Malwarebytes on your device, you will be able to use all its features for 60 days. When the free trial period ends, you can continue to use it at no extra charge, but the program will only perform the most basic features.
Yes, it's safe for use. It is a good software for scanning your device for viruses and removing them
Is Malwarebytes to be trusted?
Yes, of course, Malwarebytes is safe.
Does Malwarebytes slow down your computer?
Is Malwarebytes worth the money
Is Malwarebytes worth buying? If you currently use Malwarebytes Free then updating to Malwarebytes Premium is beneficial.
Is Malwarebytes better than kaspersky Security?
No,Kaspersky Security, which offers a high level of virus protection and a full set of security features, is not better than Malwarebytes. Malwarebytes has a lower price, but its level of malware protection is only 85%.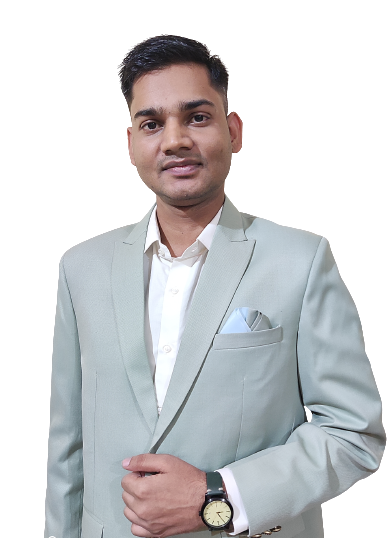 🌟 Unleash the Digital Power with Devendra Gupta 🌟
🖥️ Tech Enthusiast |Software Reviewer| Blogging Expert | SEO Guru |
Web developer 📊
🔍I tested hundreds of Software and reviewed