A 7z file is a .7z archive usually created with the 7-Zip tool. Unlike Zip files, there's no direct way to open 7z files on a Mac; You will need specific software to do this.
7 Zip is free software for compressing and uncompressing 7z or another zipped file. It also has some handy capabilities for working with packages. On the other hand, in order to open a 7z file on a Mac, a utility similar to 7-Zip is required. Is there a Mac version of 7-Zip, and are there any excellent 7-Zip alternatives.
I use 7-Zip for Windows and am surprised by the compression quality (often down to 60% of the original size). 
Is 7-Zip Available for Mac?
NO!
According to 7-Zip's official website, the application is compatible with Mac OS, Windows 10/8/7/Vista/XP/2000/NT. There is also a version for Linux, Ubuntu, and other operating systems called 7zip.But unfortunately, there is no Mac version of 7-Zip.
So, everything you've heard about 7-Zip for Mac isn't true. However, there are other 7-Zip alternatives for Mac that work just like 7-Zip.
Its main disadvantage is that it only works on Windows and thus is incompatible with Mac OS X. Luckily, there are a number of Mac-friendly alternatives. The Unarchiver is a good choice as it can open and decompress 7z files in under a minute.
5 Best 7-Zip Alternatives for Mac
Better Zip is not the only Mac application that can open 7-zip files. There are several more archive tools that will open them as well. These are some examples:
The Unarchiver
Keka
iZip 
Winzip 7
BestZip

The Unarchiver is a free application for extracting files from archives; however, it can only unzip files. This program probably supports the most archive formats, with 13 popular formats, 18 obsolete formats, and 10 strange formats supported. Furthermore, you cannot preview the contents of the archives prior to extraction.
Main Features of The Unarchiver
Supports Zip, ISO, Tar-BZip2, RAR, 7z, LhA, StuffIt, EXE, and over 40 different archive types.
Customize the extraction: the location, whether or not to create a new folder, the modified date, and whether or not to move the archive to the trash after extraction.
By default, the software opens specific archives.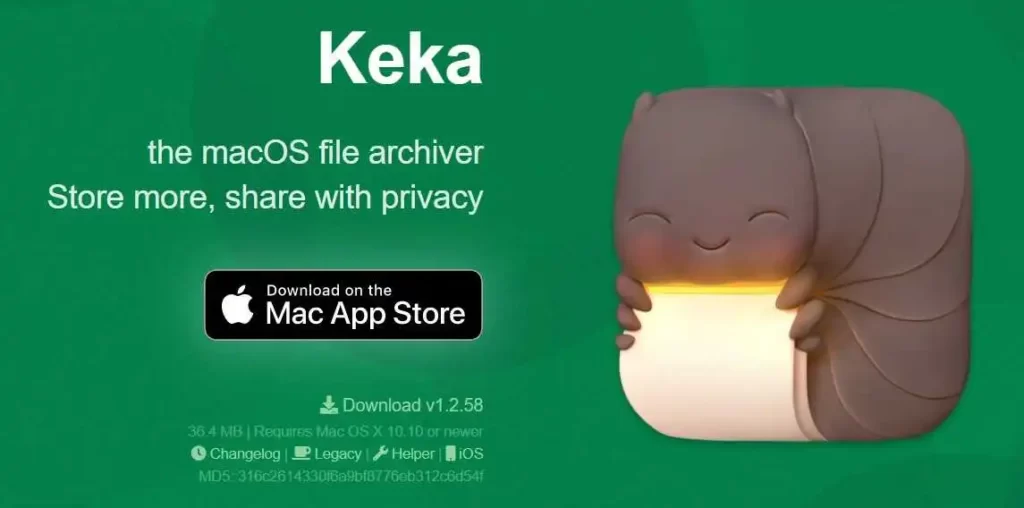 Keka is a free archiving application that allows you to zip and unzip files in a variety of formats. It's really easy to use Simply drag and drop files or archives into the software for packing or unpacking. You can also split a collection into smaller static-capacity collections for easier sharing. Keka will notify you when the zipping or unzipping process is complete.
Main Features of Keka
Keka can extract a wide range of compressed files, from ZIP and 7Z archives to RAR archives, even those that have been partitioned
To extract Keka simply double-click those files, or drag them to an icon in the Dock or main window.
Compression formats supported: 7Z, ZIP,DMG, GZIP,TAR, BZIP2, XZ, ZIP, BROTLI, ZSTD, LRZIP, AAR, WIM, and ISO
Supported extraction formats include:
7Z, ZIP, RAR,EXE, CAB, WIM, MSI, PAX, TAR, GZIP, BZIP2, XZ, LZIP, BROTLI, ZSTD, LRZIP, DMG, ISO, LZMA, JAR, APK, APPX, CPGZ, CPIO, XIP, CPT, and others.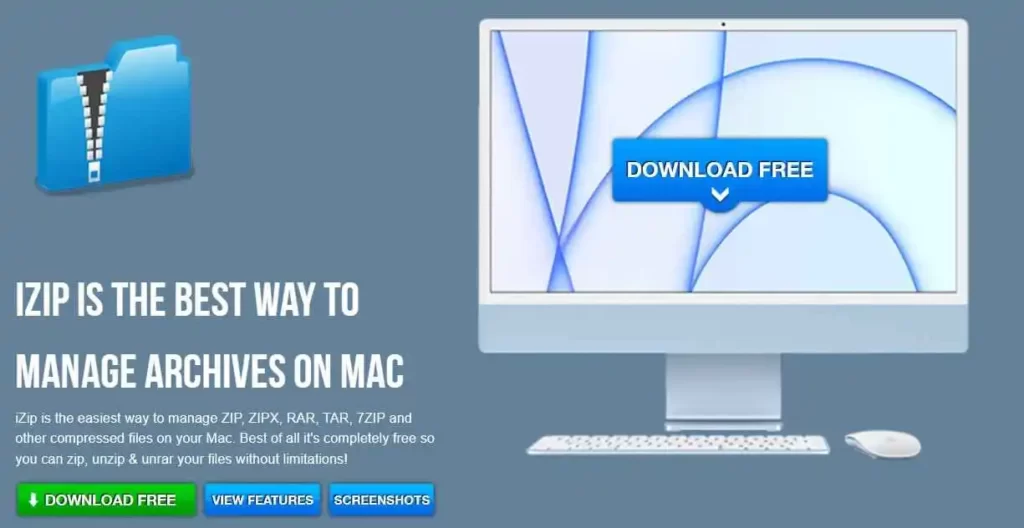 iZip is another program for zipping and unzipping several archive formats such as Zip, TAR, TAR.GZ, Zipx, RAR, TAR, TAR.GZ, and 7Zip. It is quite simple to use; simply drag and drop the archives into the application, and a folder containing unzipped files will be produced.
Main Features of.iZip
Unarchive files in RAR, TAR, Zip, Zipx, TAR.GZ, and 7Zip formats.
Combine Zip files into a Zipx archive
Encrypt and compress archives

WinZip 7 for Mac is a full-featured program for zipping and unzipping files on Mac. While it doesn't support as many archive formats as other 7-Zip alternatives, it does include a number of tools for managing and optimizing archives. You can encrypt, resize, convert, watermark, email archives, and share them anywhere.
Main Features of Keka
Unarchive ZIP, Zipx, RAR, LHA, 7Z, JAR, WAR, and 11 other file formats.
Stuff files into Zip or LHA archives.
Encrypt files
Provide basic editing options such as photo resizing and conversion, as well as watermarking
Share files via email or anywhere else (Dropbox,iCloud, Google, etc.)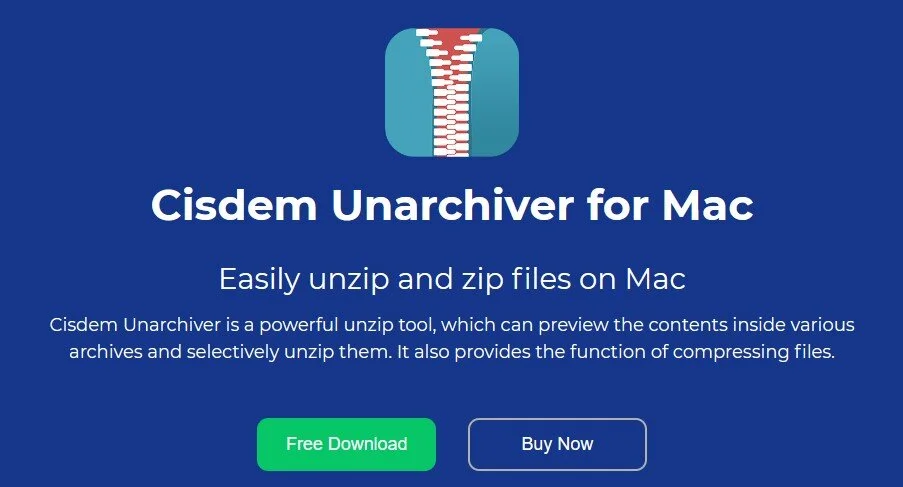 Cisdem Unarchiver is a great option if you want a full-featured 7-Zip replacement. Cisdem Unarchiver is a Mac unarchiver and archiver that allows you to batch-compress files, preview the contents of archives, and unzip archive files. It has good packing and unpacking format support.
Main Features of Cisdem
Unarchive Zip, ISO,7z, Rar, Tar, Cab, Wim, XZ, CHM, Com, Hfs, Nsis, Udf
Preview contents before unzip
Archive to Zip, Tar and 7z
Encrypt zipped files
Extract from encrypted archives
Batch zip or unzip files
Entirely or partially unzip files
How to open 7z files using The Unarchiver
STEP-1:Install "The Unarchiver" first. The most recent version is 4.3.5, which requires macOS 10.7 or later. The file is 17 MB in size. You may either get it through the Mac App Store or directly from this page.
Because the app is simple, you should be able to set it up in a matter of seconds, depending on your internet speed.
When The Unarchiver application has finished installing, open it to view the file association list.
STEP2-Start the Unarchiver and look for the file association list; tell the Unarchiver to associate it with. 7z archives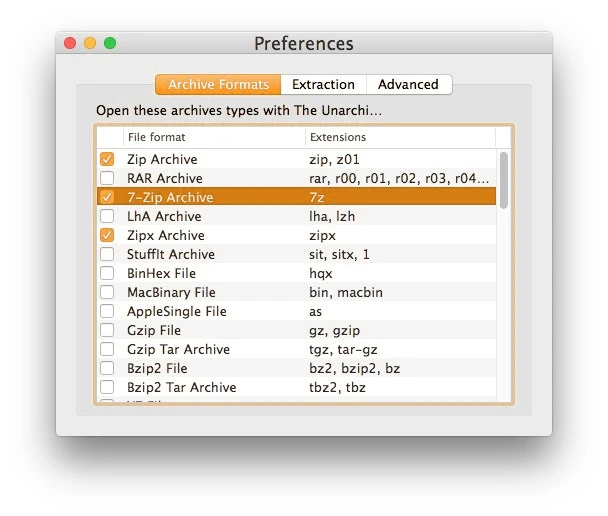 STEP3-After you've paired The Unarchiver with .7z, you can double-click any .7z file on your Mac machine. It will then open and uncompress 7z files in the same way as other archive formats, or you can launch and drag and drop 7z files into the utility.
Although there is no 7-Zip for Mac version, the five 7-Zip alternatives listed above are all viable solutions for opening 7Zip or other compressed files on the Mac. If you're looking for a tool with advanced features for working with different archives, The Unarchiver is worth a look.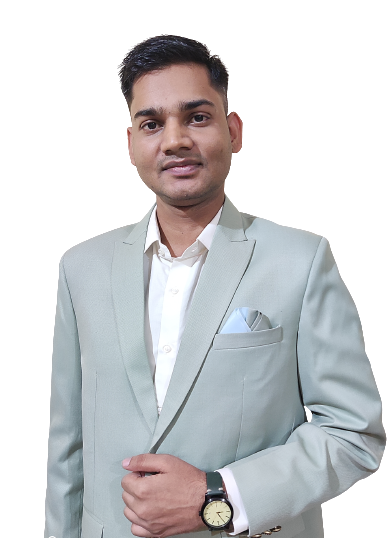 🌟 Unleash the Digital Power with Devendra Gupta 🌟
🖥️ Tech Enthusiast |Software Reviewer| Blogging Expert | SEO Guru |
Web developer 📊
🔍I tested hundreds of Software and reviewed